Blue Growth Summerschool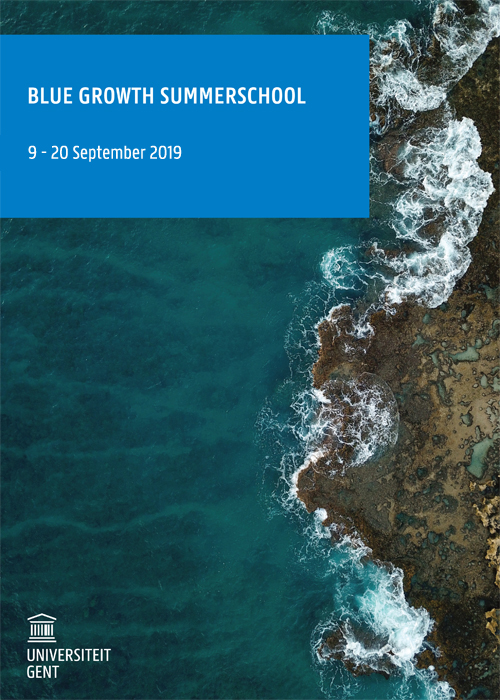 9 - 20 September 2019
A Master or PhD student in engineering, bio-engineering, geography, or marine biology?
Passionate about exploring the challenging role of oceans and seas in our future society?
Excited about marine and maritime sciences, business development & entrepreneurship?
Fascinated by looking across disciplines?
Up for fun with international students in an enchanting Belgian coastal city?
Then, join the fourth edition of the Blue Growth Summer School
Subscribe here

Oceans and seas are identified as the key drivers for European economic development and, as a result, have the potential to deliver new jobs in the coming years. The European Commission is a strong believer and promoter of innovation and sustainable growth based on marine and maritime opportunities.
To exploit the full potential of Blue Growth opportunities multidisciplinar training of graduates across engineering and marine and maritime sciences is essential. It is in this context that the Rome Declaration (adopted at the EurOCEAN 2014) calls for innovation in the provision of marine and maritime graduate training to enhance the skill set of students, to diversify possible career pathways but also to widen their comprehension and appreciation of fundamental marine ecosystem functioning.
Across existing and emerging Blue sectors, fundamental science combined with technical background is essential and should be combined with business development teachings focussing on commercialisation of research results based on direct insights from the industry both multinationals and SME's.
The course fits the challenges mentioned above as it provides holistic training in several blue growth domains while laying out the cross disciplinary links.

The course is designed for Master students and PhD students. Engineers, bio-engineers, geographers and marine biologists are welcome to subscribe however essential for enrolment is the demonstration of experience in marine and maritime projects.
Certificate granted by Ghent University
The students following the 2-week programme will receive assignments that will be evaluated by a jury.

Full participation and attendance is a prerequisite except for illness.

Students who successfully complete the 2-week programme will be provided a certificate of Ghent University and will be awarded ECTS-credits indicating workload.

For recognition of ECTS in to your curriculum, please consult your university.
The Summer School is recognized as specialist course by the (Bioscience) Engineering and Natural Sciences Doctoral Schools of Ghent University. As such for PhD students of Ghent University the course will be added to the curriculum by the Doctoral Schools administration.



Ghent University
In marine and maritime siences and technology, Ghent University offers a wide range of education programmes, research activities, infrastructure and facilities. Simultaneously Ghent University enables and facilitates the transfer of its research results towards the market through business developers fostering a close and productive relationship between researchers and companies in an adequate socio-economic and ecologic environment. From 2016 onwards the Board of Directors of Ghent University decided to cluster its ongoing marine and maritime activities and initiatives under the Blue Growth umbrella coupling this to its Campus in Ostend.
Greenbridge
GreenBridge is an incubator with its major stakeholder being Ghent University. GreenBridge focusses on blue growth in close cooperation with Ghent University attracting and nurtururing young companies e.g. R&D by providing office space and mentoring assistance through its triple helix stakeholder network. It also hosts a science park with the first infrastructures currently being build: the coastal and ocean bassin (C.O.B.) and a towing tank.
TUA-West
TUA-West is co-organiser and co-sponsor of the Summerschool. It acts as an umbrella joining Belgian universities, institutions of higher education and the industry to advance the regional economic development of the province of West Flanders.
Doctoral Schools
PhD students recieve the support of the Doctoral School of (Bioscience) Engineering and Natural Sciencess of Ghent University.
Programme
The maritime module covers blue energy and coastal engineering. The marine modules covers aquaculture, oceans and human health and the use of marine space. Students are allowed to attend a single module however attending the entire programme allows a submersion in the cross-disciplinary philosophy of Blue Growth.
In every module lectures explicitly cross over: e.g. the maritime module includes lectures on environmental impact while in the marine module, lectures and an interactive session are provided on the topic of offshore multi-use platforms looking beyond mere biotic and abiotic monitoring and experiments seeking innovative ways to integrate marine and maritime functionalities and applications e.g. blue energy.
Themes
Currently the programme is being finalised. Key-themes that will be addressed include 'sustainability' and the following:
Wind Energy
Wave Energy
Coastal Engineering
Aquaculture
Marine ecosystems and their societal benefits
Blue Biotechnology
Multi-use platforms
Use of marine space
Besides scientific lectures the programme will include interactive, hands-on sessions:
Practical sessions
Wave energy and coastal engineering
Spatial positioning - on the beach in Ostend
Design of a multi-use platform
Aquaculture and wind energy
Business development insights
Aquaculture, wind and wave energy
Field trips to
Harbour of Ostend: Renewable Energy Base
Offshore windmill farm
Visit to the Flanders Marine Institute including the Marine Station

Social activities are also foreseen and include a groupdiner, a traditional diner hosted by a Flemish family and an outing linked to the Belgian culture/history.



Practical info
PhD & Master students
Fee for two-week programme: € 500,-
Fee for one-week module: € 250,-
Ghent University PhD-students are supported by the doctoral schools and can register without fee.
Professional
Interested in multiple day sessions? Please contact bluegrowthsummerschool@ugent.be
Ghent University accepts training cheques from the KMO-portefeuille (
www.kmo-portefeuille.be
, authorisatie-ID: DV.O103194) All fees are free of VAT. For participants enrolled in the full programme the fee covers:
Lunches and coffee breaks during lectures
Transport from the hotel to the lectures
Field trips and excursions
Overnight stays and welcome diner
Note: participants will be hosted in shared apartments, the exact location is yet to be confirmed.
Single rooms will be available for participants.

Cancellation policy
When cancelling up to 10 days before the start of the course or module 25% of the participation fee will be charged. When cancelling less than 10 days before the start of the module, the full fee is due.
Training cheques
Ghent University accepts payments by KMO-portefeuille (www.kmo-portefeuille.be;
authorisation ID: DV.O103194
).